Hi baby,
First of all, how is it possible for you fingernails to grow so fast? Geez!! I just don't understand it..... ok, that's all. :) ANYWAY... we got back from our Mexico trip last Monday evening, (or Tuesday morning should I say) at 12:30am. I was sooooo exhausted. It's not easy hauling car seat, stroller, diaper bag, luggage and YOU through airports, on airplanes, and taxis! At least I had help this time.....and I think I've pretty much got a system down now so it really isn't too bad. You of course make it wonderful. So.....after our whirlwind weekend, we got back super late and I made it to bed by 1:30am and was up with the alarm by 5:30 to grab you and get in the car to make the SIX hour trip to your Nana and Poppa's! My gosh, am I crazy???? There is no stopping for us! :)
This trip was a special one though cause we were going to see my childhood friend Hilarie and her mom Glorie! We lost touch with each other for awhile but we have been talking so much since we've been pregnant and had babies and she has become a dear friend to me. Hilarie lives in West Virginia, and they were making the drive at the same time to meet at my mom's house for a little reunion! Her little guy, Brendan, is only two months younger than you so it has been fun sharing our stories. I was so excited to see her again and to meet her little man!! We've exchanged so many pictures and finally we were going to be able to hold each other's babies!
So....after loading you up, and the 10 week old puppy, Annie, we headed out. All went well, except for a little bit of howling on Annie's part, and we made it there after a beautiful drive. My gosh I love the fall....I was just mesmerized by the changing trees...vibrant reds, oranges and yellows. The drive went by so quickly and you were an angel. I think you were just as amazed as I was. You stared out the window a good part of the trip when you weren't sleeping. Thank you God for painting such a beautiful picture for us to enjoy on our trip! :)
It was so wonderful to see Hilarie and her mom. Her baby Brendan is such a cutie....so precious. He was so much lighter than you! I can't believe you were ever that little...you are growing so fast. It was such a quick trip but we just hung out talking, playing with each other's babies, and telling them about some of our geocaching adventures. They had never heard of geocaching, and Hilarie was so excited to try it, so the next day we went for a walk downtown and found a few caches along the way! It was a lot of fun just spending time with them, eating Crab Rangoons on Main Street at a little chinese place, walking through a few stores and trying hats on and searching for those darn caches. :) They could only stay a short time, but we got a lot of fun in! We didn't take near enough pictures, but we had lots of laughs! You kept wanting to grab Brendan's face...too cute. Next time you both will be even more active. I'm glad that you guys will be able to be little buddies. What fun will be had!!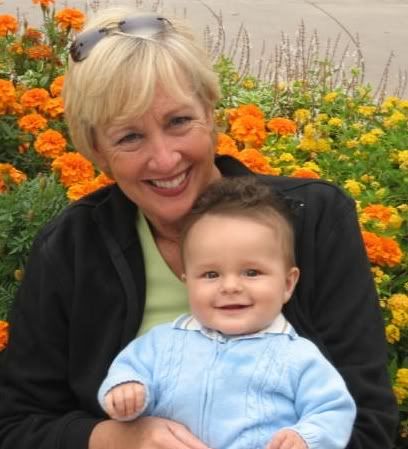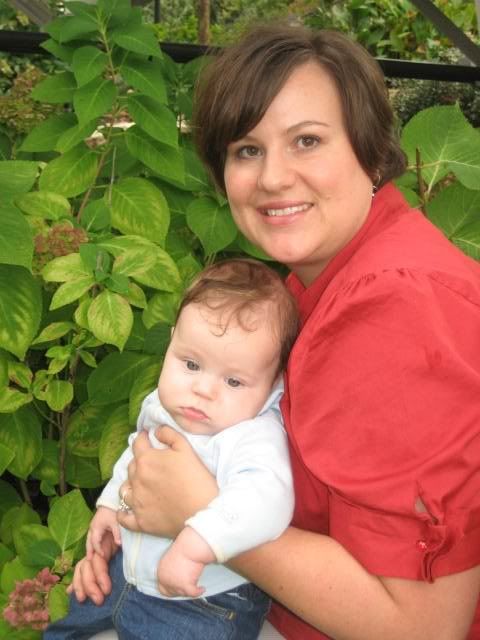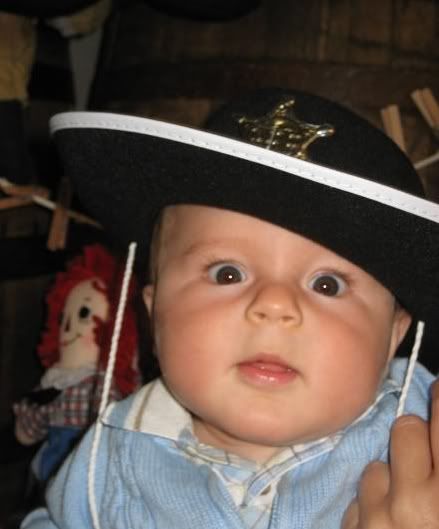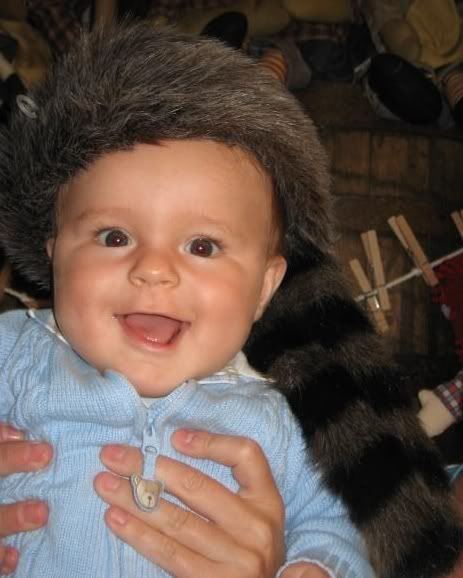 We stayed an extra day just hanging out with mom and Chuck and the new puppy Annie. Nana took care of you one morning so I could sleep an extra hour or so, and she gave you a bath, and played with you all morning. You got your "nana time" in for sure! She is so amazing with you, and you are crazy about her. Your nana and I played a bunch of Boggle while you were taking your naps. Boggle is a game where you shake up a bunch of letters and they fall in a grid and you have to make as many words as possible from the cubes that are touching without using the same letter twice. I swear I am pretty darn smart, but every time I play that game with her I wonder why I subject myself to such torture. Same thing when I play Scrabble or Speed with here...She ALWAYS beats me!! We're always pretty neck and neck (except for Boggle where she slaughters me) but she always wins! She is the only person that does that. Anyone else I play with, I'm used to being the one who wins, but with her...OH NO!! Gosh it makes me mad! :) But then I just want more....cause I'm determined to beat her! We have fun with it... and of course every time I'm with your Nana and Poppa we play lots of Canasta at night. It's a fun card game that I can only play with them, as no one else I know knows how to play it, so we play every night....and sometimes I win!! Yay!! :)
Anyway...we had a fun, quick trip and it was great to see good friends again. You are so amazing my little one and I just think you are the cutest thing that ever was. Thank you for making my life so much more fulfilling.
Love, Mommy